Event Room Rentals
The historic Strand is a unique venue for films, live entertainment, and corporate and private events, and features beautiful event rooms and roof-top terrace unlike any in the area. They are available for wedding receptions, holiday parties, events, corporate workshops, lectures, classes, and other activities. The event rooms range from $250-$1,200 for weekday and week evening events and range from $300 - $1,300 for weekend events. Multi-space rental discounts are offered. Click for more information about wedding-related events at The Strand.
Top Level Event Room
What used to be the back of a projection booth in the 1930s has been transformed to an elegant space for hosting memorable events. It boasts coffered ceilings, a teardrop chandelier, and four windows and two doors overlooking the square, which feature transoms with decorative etching that can be seen from inside as well as from outside. The etching is a replica of transom etchings at The Strand when it was first constructed. The premier space can accommodate 64 guests for a seated & served luncheon or dinner, and up to 115 for a cocktail party.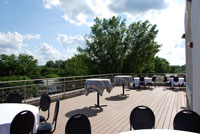 Cobb Terrace
The Strand's premier top level event space opens to an open-air terrace where guests enjoy a view of the Marietta Square and the lively Glover Park. From the far end of the terrace, guests may take in the beautiful scenery of Kennesaw Mountain. The terrace can accommodate 48 guests for a seated dinner and up to 100 for a cocktail party.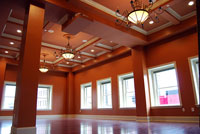 Second Floor Event Room
Historically, the second floor event space in The Strand housed Loudermilk Studios, the premier photography studio in town ten decades ago. Many of the historic photos of the square and The Strand were photographed by Mr. Horace Loudermilk himself. The space was and still is the brightest in the building, featuring six oversized windows across the front. Now, it also features cherry floors, coffered ceilings, and three beautiful chandeliers rescued from a historic hotel in Atlanta. Just outside the room is a Fine Art Gallery space featuring local artists' work. The space can accommodate 64 guests for a seated and served luncheon or dinner, and up to 100 for a cocktail party.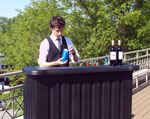 Beverage Service
The Friends of The Strand holds the liquor license for the Earl Smith Strand Theatre and are the sole providers of alcoholic beverage service for all events – no exceptions. Please click to learn about The Strand's beverage service plans. If your event does not require alcoholic beverages, your caterer is invited to provide non-alcoholic beverage service.
Catering
At The Strand, we know your event must be unique and different from all the rest. To assist you in making your vision become a reality, we are pleased to offer you choices. Instead of requiring our clients to use one in-house caterer, we offer you a list of preferred caterers who can provide you with variety and quality cuisine, fantastic service, and are familiar with how the facility can accommodate your needs. Please click to learn about The Strand's preferred caterers, who are all licensed, insured, and delicious! Strand guests may not bring in their own food.
Parking
The Strand is conveniently located across the street from the Cobb County Parking Garage (between Cherokee and Waddell Streets at Dobbs Street). Parking is free to the public on Mondays through Fridays after 5 PM and all day on weekends. During the day, parking is only $5 in the same parking garage. Cross Cherokee Street and you're at the Earl Smith Strand Theatre! Click to Download a PDF Map.
City parking in and around the Marietta Square is free for two hours Mondays through Fridays until 6 PM. For workshops, meetings, and other events hosted at The Strand during the weekdays lasting more than two hours, it is recommended that attendees park in the Cobb County Parking Garage or other paid lots around the square, typically available for $3/day.
The Strand encourages lessees hosting receptions, meetings, workshops, concerts, etc. at The Strand to post a pdf map in your invitations and promotional materials such as your event website. Please click to receive a pdf map of the Marietta Square, The Strand, and various parking options.
Contact Us About Your Event!
For more information about making your next event unforgettable, contact The Strand by filling out the contact form below, emailing myevent@earlsmithstrand.org or calling 770-293-0080. Tours and in-person meetings are available by appointment only. Due to a high volume of sales calls and scheduled tours, the staff can respond to you more quickly by email. If you prefer to communicate by phone, we will return your call as soon as possible. Our business office hours are Monday through Friday from 10 AM to 4 PM.
Recommended Vendors


A Day in the Life Photography
John Webb
31 Mill Street, Suite 200
Marietta, GA 30060
770-321-4350 www.adayinthelifephotography.net